The colorful world of extrusion die-Hollow sheet die and calibrator
2023.06
---
Hollow sheet is with several features, such like light weight, high impact, waterproof, antistatic, flame retardant, anti-acid and alkali etc. it's applied on package, industry, architecture filed. such as : the roof or wall of greenhouse or building, sound insulation, fireproof material, billboard etc. Hollow sheet is made of PP or PC, for different application, besides the basic hollow rib structure, Pozi structure or slant structure (a.k.a. skylight panel) or other special structure.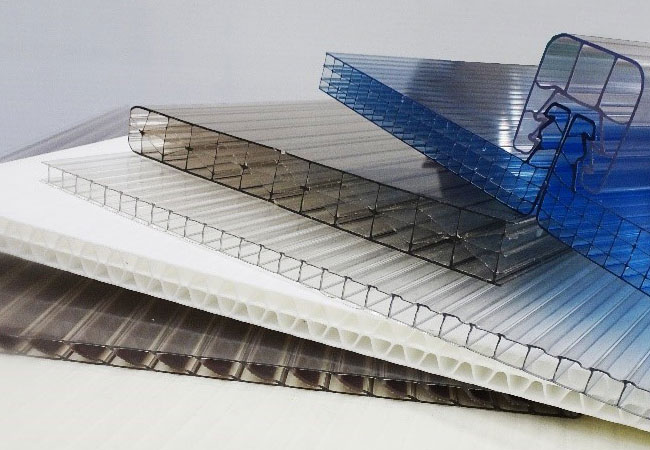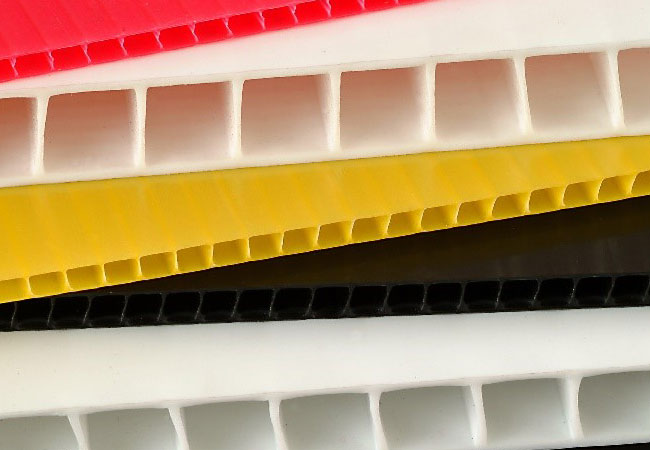 ( Hollow sheet has different structure, due to different application.)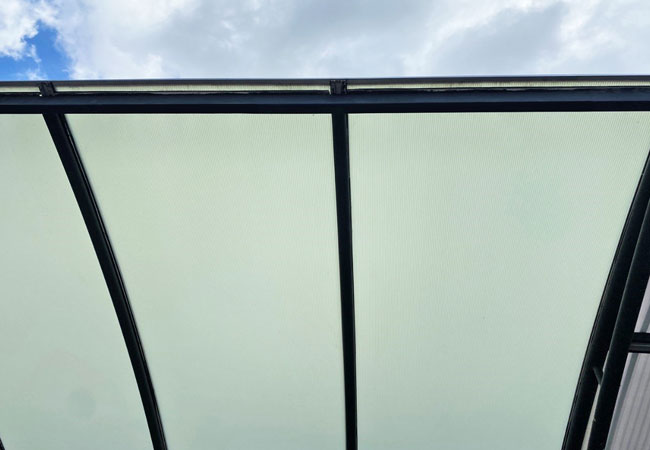 ( Slant structure (a.k.a. skylight panel)with anti-UV layer is used for roof and reduce temperature.)
Hollow sheet means both side are solid sheet, but middle layer are ribs, due to the structure, compared with other extrusion die for making sheet or film, the design of hollow sheet die is totally different. For ensuring the even space and rib strength, the male of hollow sheet die is the essential factor, including good design and excellent machining process. Each slot surface that polymer goes by should be very smooth, precise line cutting processing can make fine male. Besides that, the air channel of die is very important to hollow sheet forming, it is temporary support for rib, too much or too less air will make problem of rib, so the hollow die always equips with control air flow system, individual adjustment of each zone to help operator to control the air easy and accurate. For making perfect hollow sheet, temperature, line speed, air flow and rib strength should be balance, it is the best produce status.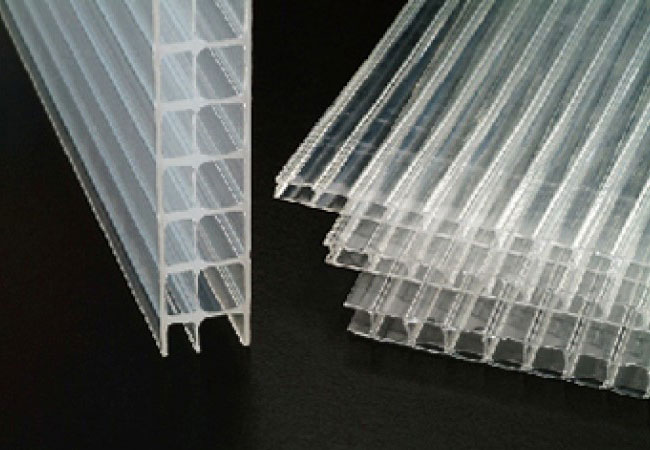 ( Hollow sheet die design and air control system ensure the rib strength. )
Mainly application of hollow sheet is for building, sometimes, high transparency or anti-UV is needed, so most hollow sheet for roof will coat anti-UV on both sides, for saving cost, how to control the UV layer thickness precisely, to avoid anti-UV from penetrating into middle rib, increase the cost, special lip and male adjusting device that is with patent can solve the issue.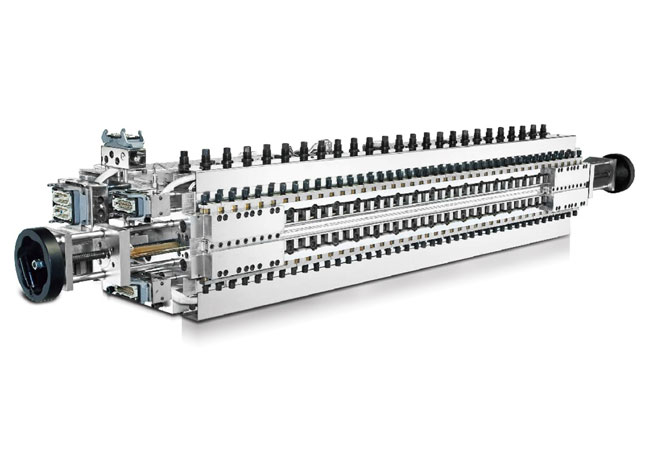 ( For meeting customer special requirement, deckles system is available on hollow sheet die. )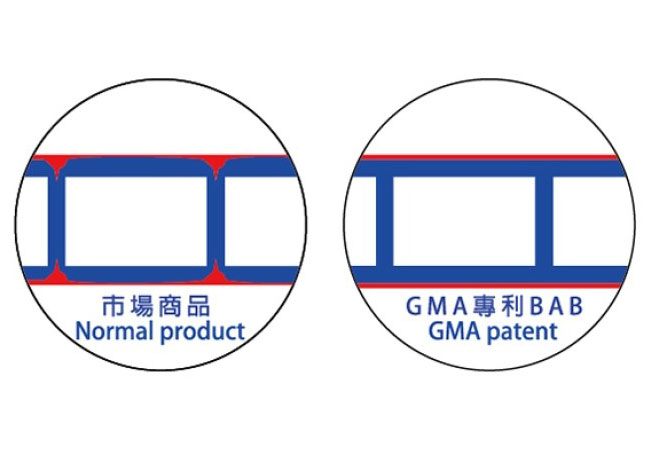 ( T special lip and male adjusting device that is with patent can avoid anti-UV from penetrating into middle rib. )
Deckle system is used for extrusion sheet or film die very often, but it is seldom used on hollow sheet, unless customer require it, for meeting such demand, deckle system can be available for hollow sheet die.
The difference between hollow sheet and other extrusion sheet or film is forming way. For sheet or film forming is via roller unit, but for hollow sheet, it is formed via calibrator of vacuum cooler with unique design, usually, hollow sheet die and vacuum calibrator should be provided by the same supplier ensuring the hollow sheet quality, the vacuum plate of calibrator is with water and air channel for making hollow sheet form well, especial to ensure the ribs strength. Due to the vacuum plate is the essential for forming, every supplier has unique design of vacuum plate, including material and machining way. Fixed auto adjustment system of calibrator, the tolerance of vacuum plate position within 2 micron, ensure the both side surface of hollow sheet are flat and smooth, even distribution air flow and water system make stable production line speed and capacity, fast and good forming.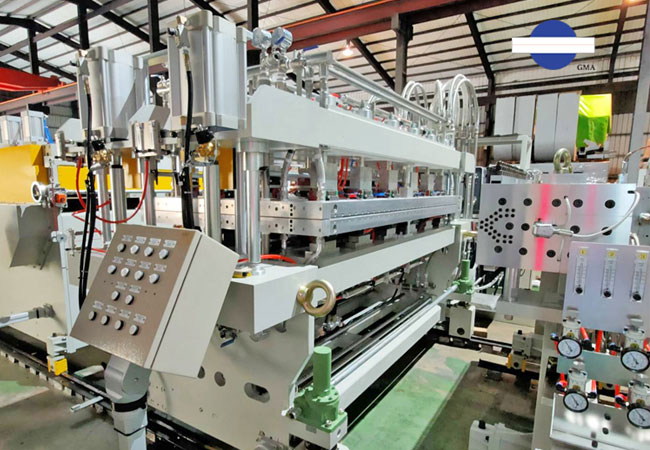 ( Calibrator of vacuum cooler is also the essential factor for well forming of hollow sheet. )
No matter the properties , processing condition and forming way of PP and PC are different, for getting good quality hollow sheet, extrusion die channel design and vacuum plater material are different for PP and PC. For example, aluminum vacuum plate is suitable for PP, but not for PC, new material vacuum plate with advance processing treatment and new design of air flow and water system , easier operation, better control, reduce vacuum plate from three sets to two sets, save cost, production capacity can keep around 350-400kg.
If customer want to increate production capacity of PC hollow sheet, suggest to replace the first set of vacuum plate.
Hollow sheet die is really quite different from other extrusion sheet or film die, including process and design, but for extrusion die users, the most important thing is to work with good and trustable die manufacturer, it is the essential to make production line performance better.