GMA MACHINERY ENTERPRISES (GMA) introduces the newest electroplating equipment and techniques, providing integrated services of hard chrome plating, surface grinder and sophisticated polishing, improving quality and evenness of plating, to enhance customer's product competitiveness. Furthermore, 2 sets of electroplating equipment were established in 2018 and 2019, techniques are kept leveling up by continuous researching and developing. At present, the longest length of plating is 6-meter, width is 1-meter and thickness achieves 150um.
Industrial hard chrome plating process is the technique GMA applies, a very important process in precision industry. Accompanied with Japanese electroplating solution and heating up process, surface hardness of hard chrome electroplated item would achieve HRC 65 degree (800HV) at lowest, which is superior to market standard. By having characteristics of abrasion resistance, corrosion resistance and alkali resistance, a normal rasp would not damage its surface, scratches would never be found. Although the cost of plating is high, it can keep molds' surface perfect and perform the best, extending service life of the molds.
GMA aims for "Sustainable," paying all our efforts on environmentally sustainable working. Not only does GMA establishes systems for disposal of sewage and polluted air, but also requires all the process meet the regulations of GREEN and follows 6S production management to fit highest standard of environment-friendly. GMA offers highly precision quality of products and stable supply-chain, holding the spirit of feedback to the society, and settling our business's foundation down for "Sustainable."
ELECTROPLATING EQUIPMENT
| | | | | |
| --- | --- | --- | --- | --- |
| Type of Trough | Vertical | Vertical | Horizontal | Horizontal |
| Volume CBM(Width*Length*Depth) | 1.5*1*3 | 1.5*1.5*6 | 4*1*1 | 4.2*1*2 |
| Pinhole | Good | Good | | |
| R Angle | Good | | | |
| Effective Depth | | Good | | |
| Plating Inside The Hole | | | Good | Good |
| Evenness of Plating Layer | | | Good | Good |
CERTIFICATES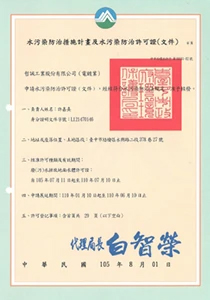 ISO 9001 Certificate of Water Pollution Prevention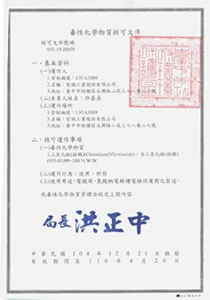 Approval for Toxic Chemicals
MUST KNOW ABOUT ELECTROPLATING
DEFINITION
Narrow Sense:

Metal Ion, composed in plating liquid, under the function of direct current field, is transferred because of diffusion, convection and magnetic field migration, to acquire electron on Cathode for returning to Metal Electron, and doing crystalline orientation into Metal Layer. The process is called Electroplating.

Broadly Speaking:

Most types of electroplating process accepted by major suppliers are composed by Electrodeposition, Electroless deposition, conversion coating and processing of surface treatment which includes Cleaning, Smoothing, Glossy and Micro-roughening.
PURPOSE
Plating metal layer on designated items give the material smoothness, rust prevention and abrasion resistance.
DOES ELECTROPLATING COVER SCRATCHES?

Metal Ion, composed in plating liquid, under the function of direct current field, is transferred because of diffusion, convection and magnetic field migration, to acquire electron on Cathode for returning to Metal Electron, and doing crystalline orientation into Metal Layer. The process is called Electroplating.

WHY SAY 30% ELECTROPLATING, 70% PRE-TREATMENT ?

Cleaning of the electroplated item and control of the solutions are necessary steps before Electroplating, this is the knowledge everyone has; however, how important pre-treatment is in all plating procedures? Most people are not sure about this. In the past experiences, disqualified pre-treatment contains 70%~80% of all failed plating attempts, experts can conclude the level of techniques and management of the designated factory just from pre-treatment. GMA applies multi runners cleaning, demagnetization and control of solution ingredients for the electroplated items. Accordingly, only if pre-treatment is processed well, we can make sure the plating runs smoothly to reduce seconds and defective products, so that production efficiency will be improved and cost can be reduced.

COMPARISON between TRIVALENT CHROMIUM PLATING and HEXAVALENT CHROMIUM PLATING
| | | |
| --- | --- | --- |
| CHARACTERISTICS | HEXAVALENT CHROMIUM PLATING | TRIVALENT CHROMIUM |
| Contains of Chrome (g/L) | 25~300 | 15~20 |
| Density of Cathode Current (a/dm²) | 15~30 | 3~15 |
| Cathode Current Effectiveness (%) | 10~16 | >30 |
| ION Dispersing Ability | Bad | Good |
| Thickness of Plating Layer | Available to plate thicker | Difficult to plate thicker |
| Stableness of Plating Liquid | Good | Worse |
| Hardness of Plating Liquid | High, Abrasion Resistance | Low |
| Gloss of Plating Liquid | Glossy, Adjustable | Similar to color of Stainless Steel |
| Chrome Mist | Yes | No |
| Toxic | Strong | Weaker |